Meyer Engineers, Ltd.
> Projects
Westwego City Hall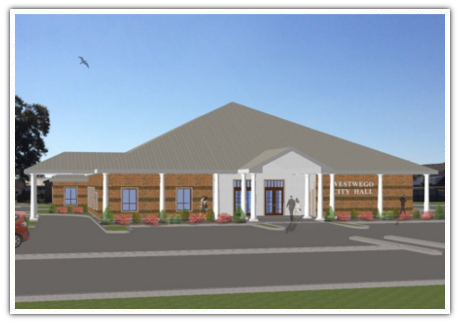 Meyer Engineers, Ltd. designed a new city hall for the City of Westwego. This single story, slab on grade, steel framed building will be the Seat of Government for the City of Westwego and will house the City Council Chambers, offices for all city officials, a place for citizens to pay their utility bills, records storage space, and the West Bank office of the Louisiana Office of Motor Vehicles. The large public assembly space will serve as the seating area for evening City Council Meetings, the waiting area for the Office of Motor Vehicle's daytime business, and the court room for the City of Westwego's evening traffic court.
This project also included designing a site plan, including parking lots and utility connections. The success of this project relied on close coordination between the city officials, the architects, civil engineers, electrical engineers, and mechanical engineers.
Start Date: March 2010
Substantial Completion Date:
2017
Construction Cost: $3,500,000
---