Meyer Engineers, Ltd.
> Projects
Mugshots Grill and Bar in Ridgeland, MS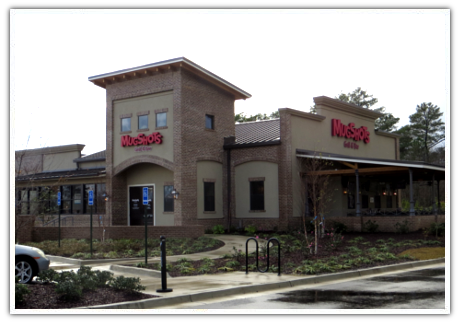 Meyer Engineers, Ltd. completed the design of a new Mugshots Grill and Bar in Ridgeland, MS, and provided assistance to the contractor during construction. This project was a collaborative design-build between MP Architect-Engineers PLLC and McMath Construction. The design team at Meyer began with plans for an existing Mugshots and was able to improve the design with a more efficient table and bar layout and unique entry and façade designs. The interior of the building, covering 5,933 square feet, houses 233 seats and contains a large main dining room with a bar, a large commercial kitchen, a separated party room, and a tall entrance tower. Interior finishes were proposed by the contractor and refined by the architect.
The stucco and brick exterior of the building is highlighted by the tall entrance tower and can be viewed from the main boulevard or a side street. The site also contains a parking lot, planted areas, and a large service yard hidden behind the building.
Throughout the design, Meyer coordinated with the City of Ridgeland to meet their strict guidelines for commercial buildings, presenting drawings to their Architectural Review Board and Board of Aldermen.
Start Date: July 2013
Substantial Completion Date:
2015
Construction Cost: $2,300,000
---