Meyer Engineers, Ltd.
> Projects
Lafitte Pumping Station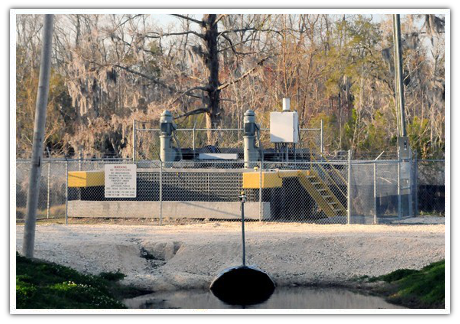 Meyer Engineers, Ltd., completed the engineering design, construction administration, and inspection of the Lafitte Drainage Pump Station. The project consisted of the construction of a 12 CFS pump station in the Town of Jean Lafitte, Louisiana.

The project consisted of two (2) single-stage 6 CFS vertical-shaft propeller pumps placed in a single caisson, an intake canal to bring storm water to the pump station, fourteen inch diameter discharge pipes to route water over the levee crown to the discharge basin, an 80 KVA generator for backup power, and an access road from Highway 45 to the pump station.

The project included design for the pump station, electrical service, levees, suction basin, new canals and steel sheeting.

Meyer completed hydraulic, hydrologic, and structural calculations, including sheet pile wall analysis, and coordinated with the pump supplier for selection of the most efficient pump.
Substantial Completion Date:
2004
Construction Cost: $516,000
---