Meyer Engineers, Ltd.
> Projects
USACE Emergency Procurement, 2005-2007 | Construction Management Projects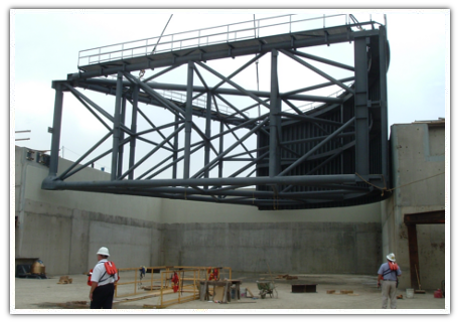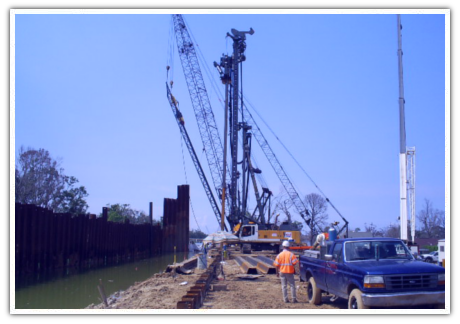 USACE Emergency Procurement Construction Management and Related Services – St. Bernard, Plaquemines, Jefferson and St. Charles Parishes
As an emergency response to the aftermath of Hurricane Katrina for Task Force Guardian, Meyer Engineers, Ltd. managed $200 million of construction and fast track engineering repair and reconstruction projects. Task Force Guardian was to restore protection by June 1, 2006, nine months after Hurricane Katrina. Meyer immediately mobilized a team of 22 quality assurance inspectors, three project engineers and three construction managers to manage and oversee construction, ensuring that the projects met schedule and stayed within budget. Meyer managed the reconstruction of concrete I-walls and T-walls, as well as the installation of floodgates and drainage pump stations at the 17th Street Canal, London Avenue and Orleans Avenue Canals. Other work included repairs of floodgates at the St. Bernard Creedmore floodgate, the new Harvey Canal Sector Gate Complex, and levee repairs from Belle Chasse to Venice.
As construction managers, Meyer performed daily monitoring of construction activities, cost estimating, data gathering, assuring adherence to safety requirements, daily reporting, on-site quality assurance inspections, attending and facilitating meetings, and providing reports to USACE.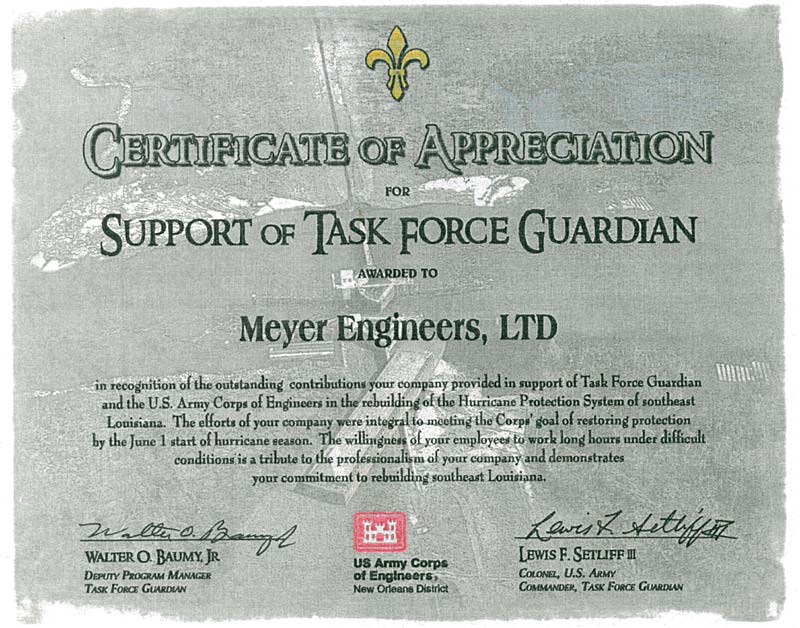 The $5 million construction management contract was completed by Meyer to the satisfaction of the New Orleans district.
This project demonstrates Meyers' expertise in program management support services, construction management and cost estimating for civil and structural engineering projects for the USACE New Orleans District and Parish agencies.
Specific relevance includes:
Ability to mobilize, keeping the project on schedule and within budget.
Program management services of construction projects.
Construction management services include monitoring of budgeting and funding of ongoing and future contract submittal management, as well as estimating and negotiating potential contract modifications in excess of $100,000.
Quality Assurance services include on-site inspection, quality assurance and safety and progress monitoring.
Technical writing and project and contract document preparation.
Start Date: November 2005
Substantial Completion Date:
May 2007
---