Meyer Engineers, Ltd.
> Projects
USACE Construction Management Services, 2007-2013 | Construction Management Projects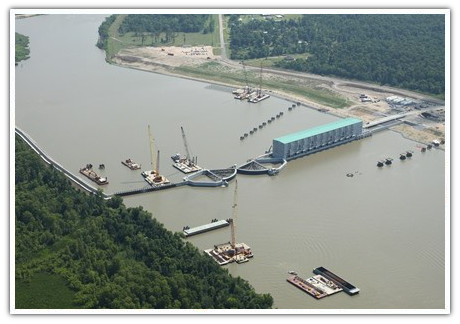 This project included providing 100-year flood protection for the Greater New Orleans Area. Work also included drainage improvements under the SELA Program. Meyer Engineers, Ltd.'s work efforts were for support of the USACE's New Orleans District, Protection Restoration Office. Our efforts also included support for the District's Hurricane Protection Office, Vicksburg District and Lafayette District.
This project was awarded to Meyer-Beta Joint Venture in which Meyer performed 65 percent of the services. Project types included earthen levees, concrete I-walls, concrete T-walls, steel sheet pile, flood gates, drainage pump stations, revetments, stone repair, relief wells, drainage canals, concrete flumes, dredging, and articulated concrete mattresses.
Meyer provided three construction managers, five project engineers, two cost estimators, two secretaries and sixty-two quality assurance representatives for this project.
Work was performed in Jefferson Parish, Orleans Parish, Plaquemines Parish, St. Bernard Parish, Baton Rouge, Lafayette, Atchafalaya Basin, and along the Mississippi River.
Meyer received an overall exceptional rating for this contract.
Projects included:
Gulf Intracoastal Waterway West Closure Complex. This $870 Million project will include the largest drainage pump station in the world.
Orleans Parish Non-Fed Pumps
St. Charles Parish Levee Gaps
IHNC Electrical Renovations
Lake Pontchartrain and Vicinity
MRGO South Bank Rock
Lake Cataouatche Pump Station, Phase 1
SELA
IHNC Dredging
Davis Pond Sheet Pile Installation
Houma Navigation Canal Maintenance Dredging
Westwego to Harvey Canal
Edgard Ferry Landing
Braithwaite Levee
East and West of Algiers Projects
Mississippi River Levee – Westbank Gaps
Mat Sinking Unit
Calcasieu River Maintenance Dredging
Calcasieu River and Pass Foreshire Dike
Atchafalaya Bar Channel Alignment
W-102 Levee Enlargement
Flood Fight-West Atchafalaya
Mississippi River Levee Hermitage Seepage Control (Relief Walls)
Start Date: May 2007
Substantial Completion Date:
2013
Construction Cost: $2.6 BILLION
---